---

Upcoming Events:
          Holy Week Schedule
April 9   Palm Sunday                                                          10am

April 10  Corporate Confession and Forgiveness           7pm

April 11 Service of Healing                                                 7pm

April 12 Praying the Stations of the Cross                  8am-8pm

April 13 Maundy Thursday                                               7pm

April 14 Good Friday                                                          7pm

April 15 Easter Vigil                                                           9pm
EASTER SUNDAY….. April 16th
+Breakfast sponsored by church council   8am-9:30am

                               Easter Sunday                               10am          
---
Flower arrangements for a special day or in memory of a loved one?  Sign up on the flower calendar hanging on the bulletin board. We can provide an arrangement for $25 or feel free to provide your own, just let us know.
---

Intergenerational Sunday School
Mark your calendars every third Sunday and plan to join us for Potluck lunch after worship followed by singing, stories and activities!
Mark you calendars for these dates.
---

Mark your Calendar for the SE Colorado WELCA Spring Gathering 
Baptized We Live
Date: Saturday, April 29, 2017
Time: 9:30 am – 4:00 pm
Grace Lutheran Church, 1128 E. Boulder, Colorado Springs, CO
To register, just contact Carolyn Gardner or click on the tab at the top of our webpage.
---

   Did you know?…
Yes, St. Paul Lutheran Church has a committee studying possible ways to expand the church building.   Although the church has a building fund set up, $19,695 won't get us much of an expansion with today's cost. Please consider making an additional giving each time you make an offering, designating that portion for the building fund.
---
Scripture promises that God has a plan for our lives but also reveals that he wants us to play an active role in that plan.
When he had washed their feet and put on his outer garments and resumed his place, he said to them, "Do you understand what I have done to you? You call me Teacher and Lord, and you are right, for so I am. If I then, your Lord and Teacher, have washed your feet, you also ought to wash one another's feet. For I have given you an example, that you also should do just as I have done to you. Truly, truly, I say to you, a servant is not greater than his master, nor is a messenger greater than the one who sent him. …
+Christian Symbol+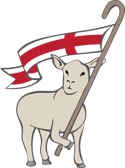 Agnus Dei
This image is known as the Agnus Dei, Latin for "Lamb of God." When pictured standing and with a banner, it represents the risen Christ, victorious over death. John the Baptist, seeing Jesus approach, famously declared, "Look, the Lamb of God, who takes away the sin of the world!" (John 1:29, NIV). In Revelation, too, Jesus is portrayed as a lamb who was slain but now reigns triumphant.

---


Total Page Visits: 385 - Today Page Visits: 1