2015-16 Sunday School Schedule
Each of these Sundays will be a potluck lunch following Worship then all children will join in singings, a lesson/story and then a craft.
Mark your calendars and plan on joining us!
~~ Adult Bible Study during this time also.  Cynthia Wusk has offered to lead a study during this time.
February 21

March 20

April 17

May 15
---

Lenten Soup Suppers and Presentations…6:00 pm

The schedule of dates and service organizations profiled are as follows:
Wednesday, February 17 – The Independence Center
Wednesday, February 24 – Pikes Peak Workforce Center
Wednesday, March 2 – El Paso County Department of Human Services
Wednesday, March 9 – TESSA
Wednesday, March 16 – Aspen Pointe
Be sure to tell others who may be interested in coming to hear these presentations!
Mark your calendars and please join us each Wednesday evening in Lent before worship at 6:00 pm for a delicious soup supper and to learn about organizations that may not only help us, but that we can point out to friends, neighbors and others who are in need!
Ash Wednesday Service…..February 10th – 7:00 pm
Come join us for this special service leading us into the Lenten Season.  
Lenten Services….7:00 PM
February 17th
February 24th
March 2nd
March 9th
March 16th
---
Registration open for Rainbow Trails Lutheran Camp – Scholarships available!!
Spots fill up fast so be sure to get yours now!
There are camps available for all age groups. Junior and Senior High, Juniors grades 4-6 and Intros grades 2-3. Experience the joy of being with old and new friends in a loving, supportive and caring Christian community! Share the excitement of trying new things! Live the wonder of being immersed in God's creation!
Rainbow trail offers people of all ages the chance to be a leader, to grow in faith, and to experience wonderful adventures in incredible surroundings.
Start thinking about your summer activities now! Pick up a brochure from the church office and if you have questions please be sure to ask! Money is available to help make sure you will have an experience of a lifetime!

Donate to the Eastern Plains Community Pantry
If you might have gently used clothing, coats, gloves, blankets and sheets. please bring to church and we will donate to the Eastern Plains Community Pantry for those desperately in need.
---
The greatest love of all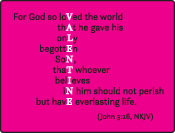 On Valentine's Day, we remember that God is the source of all love in the world. His perfect love for us has made all human love possible.
Total Page Visits: 365 - Today Page Visits: 1