Epiphany Service…
Wednesday, January 6th at 7:00 pm.  Come join us for this speical time of rejoicing and singing.

Special Music…..
Come join us at a  special concert this coming  Saturday, January 9th  at 6:00 pm.  We will be entertained by a talented  group from our
congregation.  Come and sing, clap your hands, tap your foot and sway to the music. This concert is a fund raiser for Guy Sheets who will be going on a mission trip to South America.  Come and enjoy this special music.

2015-16 Sunday School Schedule
Each of these Sundays will be a potluck lunch following Worship then all children will join in singings, a lesson/story and then a craft.
Mark your calendars and plan on joining us!
~~ Adult Bible Study during this time also.  Cynthia Wusk has offered to lead a study during this time.
January 17

February 21

March 20

April 17

May 15

 Donate to the Eastern Plains Community Pantry
If you might have gently used clothing, coats, gloves, blankets and sheets. please bring to church and we will donate to the Eastern Plains Community Pantry for those desperately in need.

10th Annual Christmas Store
St. Paul Lutheran sponsored its 10th Annual Christmas Store at the Simla Good Samaritan Nursing Home on Monday, December 7.  A team of 12 volunteers gathered and set up the display of items so the 29 residents could browse through with an assistant helping them shop.  The residents who were not mobile enough to join in the activity itself, still got to shop through a staff member at Good Sam.
Click here to read more about this great event and view those who helped

Kindness counts
• Make blankets or scarves for homeless people.

• Send a care package to someone who's in college or the military.
• Collect coins for a charity or cause.
• When you can't attend an event, give the tickets to strangers.
• Provide tutoring or mentoring in your field of expertise.
• Offer to babysit or pet-sit for free.
• Send a note of appreciation to someone who's made a difference in your life.
• Share your gifts of music, reading or conversation at a nursing home.
• Donate old sports equipment to schools.
• Give someone the benefit of the doubt — maybe even a family member or yourself!

Registration open for Rainbow Trails Lutheran Camp – Scholarships available!!
Spots fill up fast so be sure to get yours now!
There are camps available for all age groups. Junior and Senior High, Juniors grades 4-6 and Intros grades 2-3. Experience the joy of being with old and new friends in a loving, supportive and caring Christian community! Share the excitement of trying new things! Live the wonder of being immersed in God's creation!
Rainbow trail offers people of all ages the chance to be a leader, to grow in faith, and to experience wonderful adventures in incredible surroundings.
Start thinking about your summer activities now! Pick up a brochure from the church office and if you have questions please be sure to ask! Money is available to help make sure you will have an experience of a lifetime!

The meaning of Epiphany
Epiphany, which comes from the Greek word epiphaneia, means "an appearance" or "a revealing." Centuries ago, the church set aside January 6, the 12th day after Christmas, to mark the revealing of Jesus as Christ to the wise men, who were Gentiles. Jesus' first followers were Jewish, so the revelation of the divine Christ to the non-Jewish magi reminds us that Jesus came to earth to save the whole world.

Symbols of Epiphany include light, a star, a crown (or three crowns) and a globe or stylized portrayal of the world. The color of Epiphany is green to symbolize life, growth, hope and eternity.

On the church calendar, the Epiphany season lasts until Ash Wednesday, which is determined by the date of Easter.

+Christian Symbol+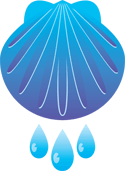 Shell
A scallop shell, pointing downward with three drops of water falling from it, is often used to symbolize baptism and the washing away of sin. The three water droplets stand for the Trinity: Father, Son, Holy Spirit.

Special dates
• New Year's Day, January 1, 2016
• Epiphany, January 6, 2016
• Baptism of the Lord, January 10, 2016
• Martin Luther King Jr. Birthday Observance, January 18, 2016
• Week of Prayer for Christian Unity, January 18-25, 2016
Total Page Visits: 332 - Today Page Visits: 3